Human curiosity and trade have enriched societies and individuals more than any other aspect of human history. In recent times, the evolution of transportation has increasingly exposed distant cultures to one another, resulting in the creation of new traditions, products and, of course, ingredients and recipes. However, not all foreign introductions were welcome with open arms, for many reasons; and some were openly disapproved, rejected or forbidden with a number of means that are too long to tell here. Here we'll tell the unknown story of one such forbidden product that – like moonshine in the US, although less strong and less dangerous - survives hidden in the Italian countryside:
Clinto wine
.
A Tangled Past – American and European Wine Relations
When it comes to wine, the relationship between North America and Europe has been one of collaboration, appreciation but also of much contention. With the introduction of the steamship in the early 1800s, intercontinental trading of agricultural products increased, including
native grape vines
. Initially, the American vine species brought to the old world were embraced by French winemakers and drinkers, leading to a period of high demand for these exciting new varietals like Isabella (from Vitis labrusca). Botanists even studied American vines to develop ways to mitigate various mildew issues facing the
European vines
.
Famously, this open trade came to a halt in the 1860s when it was discovered that a horrible menace had also traveled to southern Europe with the American vines. This of course was Phylloxera, the devastating root louse (bug), never before seen in Europe. While American vines had developed a resistance to it, European vines immediately fell victim. From 1863, Phylloxera was responsible for destroying 40% of French vineyards and quickly spreading to Spain, Portugal, Italy, Germany and nearly all European wine regions. For 15 years, it continued to wreak havoc, nearly uncontrollably, swallowing up as much as two-thirds of European vines.
Finally, after years of economic destruction, the wine industry was ultimately saved by grafting European Vitis vinifera onto Phylloxera resistant American rootstock. Before this discovery was proven effective in the 1890s, much experimentation with cross-breeding new vine species was carried out. Additionally, toxic insecticides were tested in a massive effort to save Europe's decimated wine industry. International scientists worked tirelessly in an attempt to revive thousands of communities whose livelihood depended on viticulture for centuries.
One bi-product of Phylloxera, was the European adoption of the direct producing, American hybrid species called Clinto or Clinton (also Grinton, Grinto, Bacò). This highly resistant and resilient species is a cross of Vitis labrusca and Vitas risparia, with labrusca being one of the American vines first brought to Europe in the 1820s. Originally grown in New York state, and later Brazil, it was Phylloxera and mildew resistant as well as cold-tolerant. While massive replanting of Europe's Vitis vinifera onto American roots was underway in traditional wine regions, Clinto took root in other more acidic soils across southern France, northern Italy, Switzerland and Austria.
The Banning of American Vines in Europe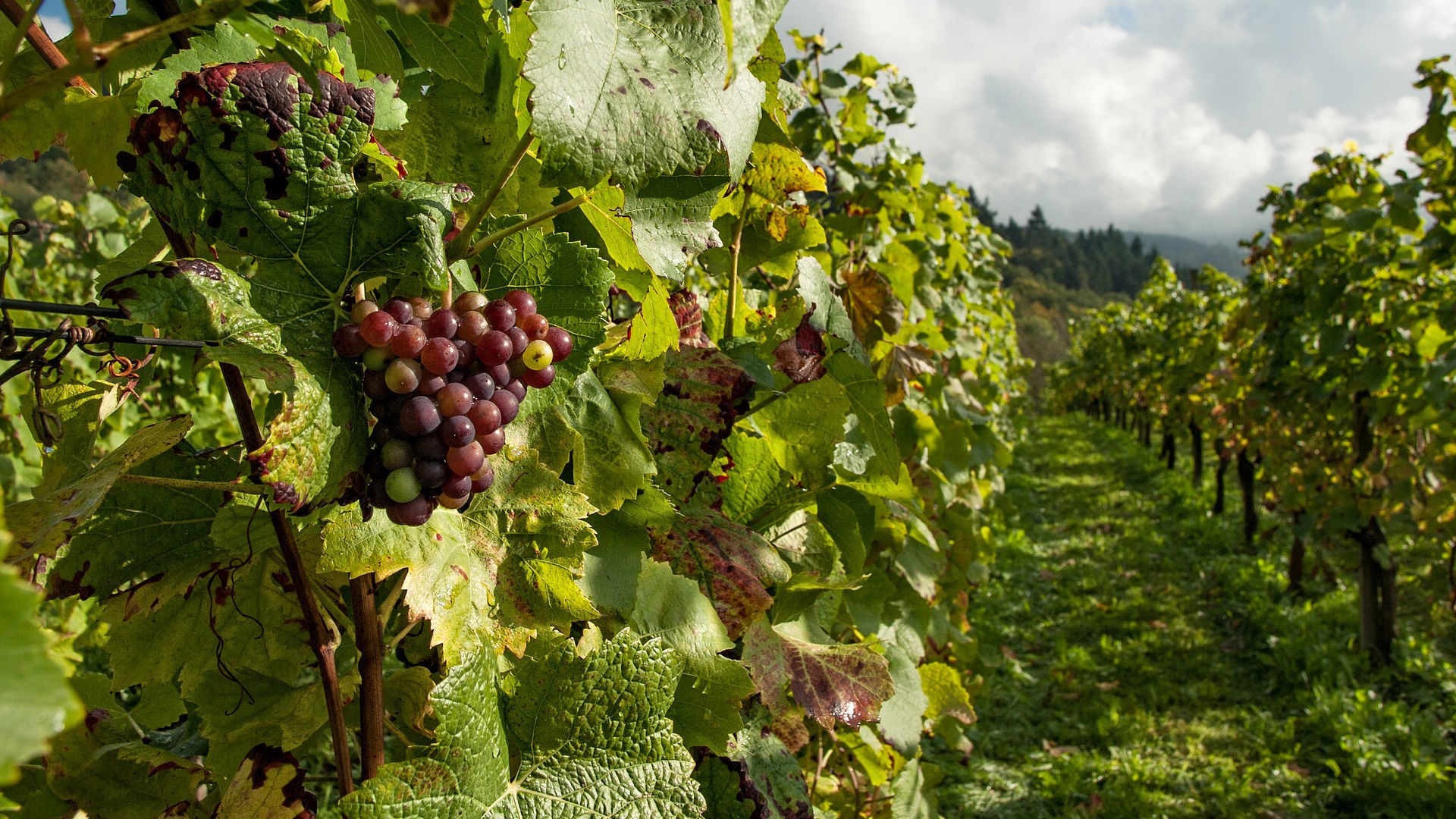 Aromatic with a fruit forward palette of wild strawberries and currants, winemakers quickly started using Clinto as table wine. Distinctively deep red in color, high yielding, and uncomplicated, it became an emblem of small wine regions including the Veneto area around Treviso, the Cévennes and Ardèches hills of southern France and the south Burgenland area of Austria. Village winemakers welcomed the new American species into their farming communities as one of their own. Unfortunately, its popularity ultimately led to its demise.
In the early 1900s Clinto began to attract negative attention from agricultural policy makers. Despite consumer praise, European governments weren't eager to include the American grape as an accepted and worthy wine producer. Adversaries and lobbyists campaigned against Clinto and hybrids, under the guise of safeguarding European varietals against economic competitors. Other opposition focused on the need to maintain the prestige of European viticulture. This after they declared the American grapes inferior, simple and even potentially toxic due to their high levels of methanol. Much of these claims of toxicity were later proved to be scientifically unfounded.
There wasn't much winemakers could do to combat the many obstacles that stood in their path. In 1930,
Austria
paved the way, banning Clinto along with Isabella, Noah, Othello, Jacquez and Herbemont, other American grapes. Bans in
Italy
followed in 1931,
France
in 1934,
Germany
and
Spain
in 1935. If the bans weren't bad enough, in 1955, France forced farmers to also pull up their vines. The final nail in the coffin came in 1979, when the E.U. wide ban was put into place superseding any previous national policies.
The European Commission adopted the French rule in 1979, making it illegal to produce wine from vines other than Vitis vinifera, anywhere in the European Union. Less than a decade later, even more extreme measures were taken to attempt to eradicate the American vines from Europe. From 1988-1993, more than 300 000 hectares (nearly 800 000 acres) of Clinto vines were removed in northern Italy and Southern France, after farmers were paid to uproot the vines. Needless to say, this drastically reduced the already small acreage of Clinto vineyards within Europe.
The Resistance – Winemakers fight back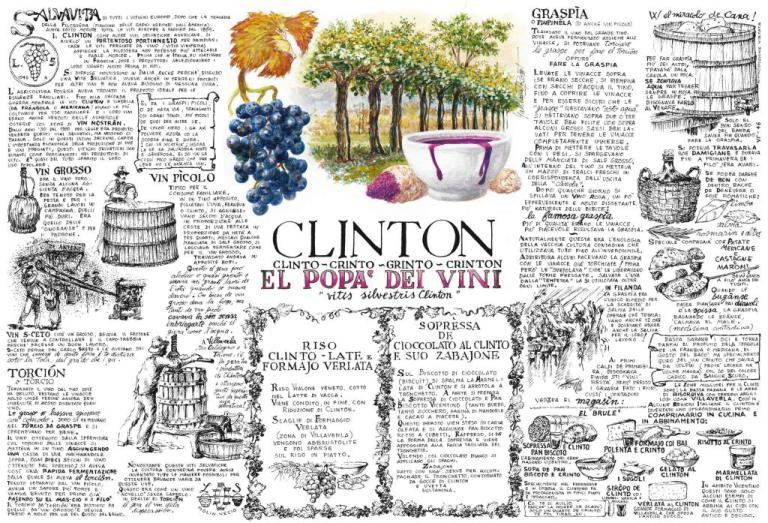 Austrian, Italian, and French winemakers never accepted these restrictions as warranted or necessary, especially today. Since the 1930s, passionate farmers have fought to continue producing wine and preserve the historic significance of these adopted grapes. In 1992, Austria won the ability to continue producing Uhudler wines from foreign and hybrid vines (under which Clinto falls), but only until 2030 when it will be up for review again.
Established in France in 1993, association "Mémoire de la Vigne" (Vineyard memory) has been trying to protect the tiny 78 acres of French-American hybrid vineyards in the south of Ardèche, where in Beaumont, the Cuvée des Vignes d'Antan is a large part of local culture. In 2003, the European Commission granted French winemaker and activist, Hervé Garnier the right to use existing hybrid vines to produce Clinto and other varietals for family consumption. It's still prohibited to plant new vines, however.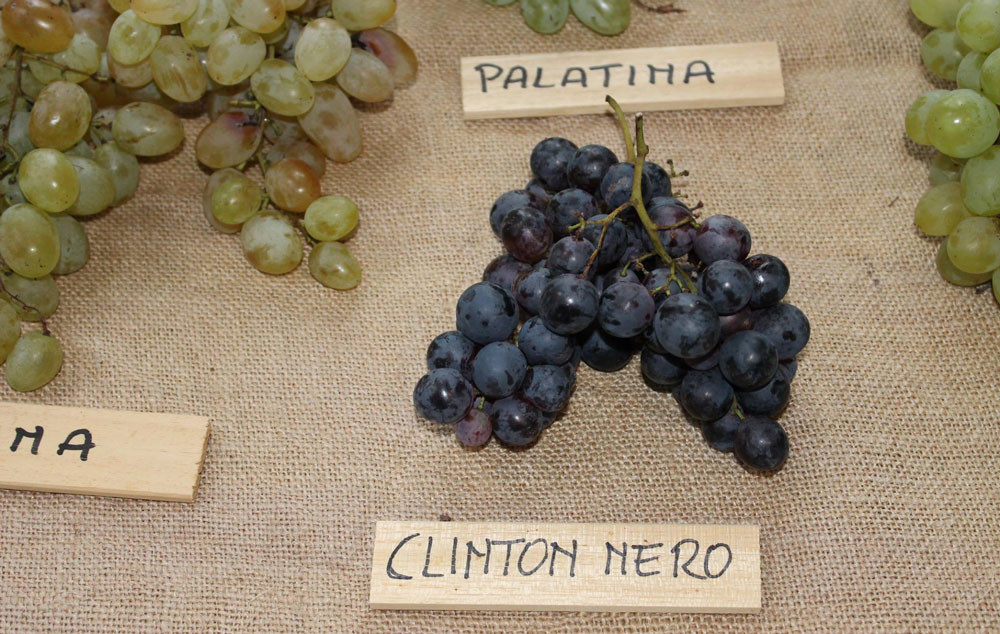 In Italy, Clinto is still outlawed for wine production other than for domestic consumption. Fortunately, the unspecific definition of domestic means you can find some
small producers
, especially around
Treviso in the Veneto region
, where a committee to protect the grape has been established. Due to the skins' deep color and flavor, the Veneto also produces a cheese called Ubriaco al Fragola Clinto (literally: "drunk with strawberry-Clinto"), rubbed with the must of Fragola (Isabella) and Clinto varietals. Additionally, in Villaverla in the Vicenza province, there is an annual
Clinto wine festival
to celebrate its heritage. The Fraternity of Clinto group of Villaverla now actively works with France and Austria in petitioning Brussels for reform. They persevere, despite the recent fines Italian grappa makers have been faced with for using Clinto to make the distillate.
Italian winemakers have been petitioning the EU Parliament for Clinto's protection as part of Friuli and Veneto's important viticultural heritage. In 2016 they received a response that suggests Italy could potentially employ the same rules that permit
Uhudler wines
in Austria. Most recently in February of 2019, the French Gard PGI wine federation appealed to the Minister of Agriculture, appearing in accordance with winemakers' wishes. "New generations of winegrowers, who are open-minded about differing tastes, ecology and the demands of society, show a keen interest in these heirloom, disease-resistant grape varieties", explained the federation. It is a step in the right direction but first more scientific research is needed before both national and European bodies officially lift the restrictions and relinquish power to each country's appellation.
Considering that the European wine industry and its native varietals have recovered since the bans were implemented, there are very few reasons to uphold the rulings. The significance of not requiring pesticides, combined with the impending threat of climate change, further justifies the allowance of American grapes in European viticulture. Decisions made now could hugely benefit the environment and the prosperity of small wine regions for years to come.
If stories of cultural history intrigue you, book a
tour
with Walking Palates to learn more interesting insights into the complex past of Italian wine and food. Get an inside look and taste of little known grapes and their incredible pasts. Whether you're heading to
Venice, Milan, Florence, Rome
or
Naples
there are always tasty new things to discover with Walking Palates.
Interested in further reading or want to know more about Clinto and its history?
Here you go:
Blanning, Beverly. 2007. In the Ardèche, Tasting 'Forbidden' Wines. The Wall Street Journal.
https://www.wsj.com/articles/SB116794937978567522
Gadye, Levi. 2015. How the Great French Wine Blight Changed Grapes Forever. Gizmodo.
https://io9.gizmodo.com/how-the-great-french-wine-blight-changed-grapes-forever-1691598233
Fuller, Thomas. 2004. Winemakers Protect Outlawed Vines: the Grapes of Wrath. The New York Times.
https://www.nytimes.com/2004/09/25/business/worldbusiness/winemakers-protect-outlawed-vines-the-grapes-of-wrath.html
Howell, Stanley an Sabbatini Paolo. 2014. Vitis Hybrids: History and Current Status. Wines and Vines.
https://winesvinesanalytics.com/features/article/125976/emVitis-em-Hybrids-History-and-Current-Status
.
Vitisphere. 2019. Will France Reintroduce previously banned grape varietals?
https://www.vitisphere.com/news-89121-Will-France-reintroduce-previously-banned-grape-varieties.htm
Wine Tidings. 1986. The Great French Wine Blight.
https://web.archive.org/web/20110726032037/http://www.wampumkeeper.com/wineblight.html