In Abruzzo, we love to eat. We also love to share a meal accompanied by a high-quality wine in the company of friends and family, while overlooking the breathtaking scenery of the seaside or mountains filled with olive groves and rows of vines. What's more, Abruzzan cuisine has something for everyone and for every taste. Including a lot of traditional, tasty and healthy vegetarian recipes.
We have chosen a selection of ten of our favorite traditional Abruzzan meatless dishes to share with you — but there are many more!
1- Anellini alla Pecorara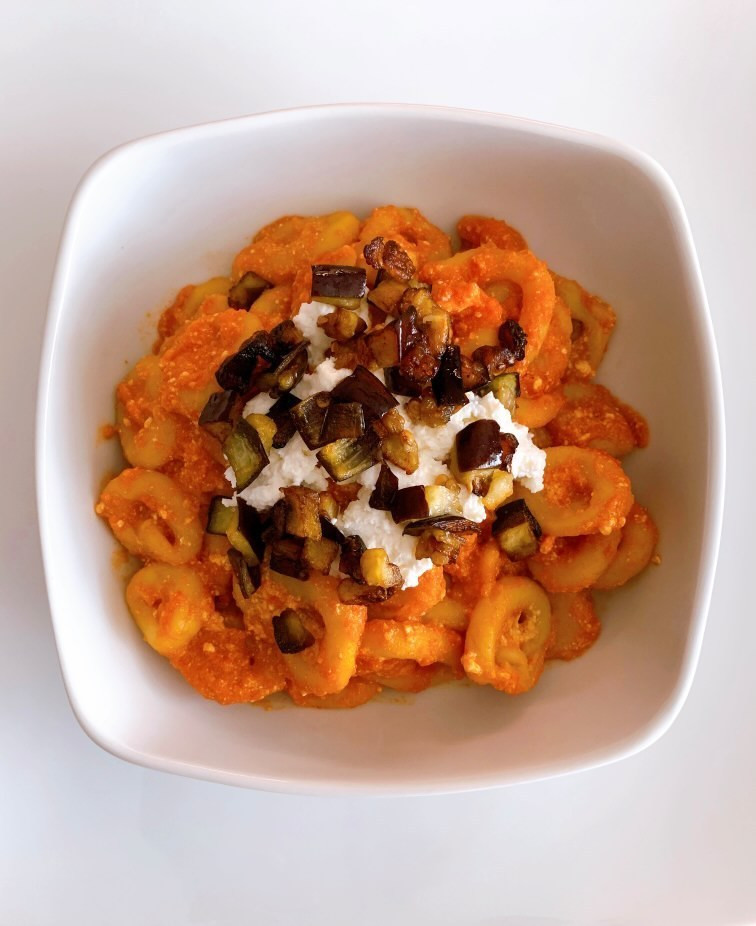 Anellini is a type of ring-shaped egg pasta. In this dish, it is served with a tomato sauce containing vegetables, along with pecorino and ricotta cheese. While this usually is a meat-free dish, it is best to ask (just to make sure), as every family and restaurant has their own interpretation. The sauce typically is made from zucchini, eggplant and bell peppers, but it can be altered to use a variety of fresh, in-season vegetables, as well. Its name
alla Pecorara
(the shepard's style) derives from the use of two types of sheep's milk cheese — percorino and ricotta — which add a touch of freshness and flavor to this tasty dish.
2- Sagne e fagioli/Sagne e ceci (Sagne with Beans/Sagne with Chick Peas)
This unique dish features
sagne
, a type of homemade pasta made from water and flour. This pasta's thick, uneven surface holds the sauce extremely well, providing an unexpected texture. It is served with a sauce prepared by frying carrots and onions together, with some cooks also adding bay leaf and rosemary. Once these vegetables have softened, a little tomato sauce and beans are added. Typically, borlotti beans are used, but it is common to find regional varieties featuring other types of beans. This simple, traditional, rural, home-cooked meal will win the hearts of almost anyone. If you order it in a restaurant, ask to make sure it doesn't contain pork rind. Although it is a rarity, this meat ingredient is sometimes added.
3- Pizz e Foje/Pizz e Minestr (Cornmeal and Greens)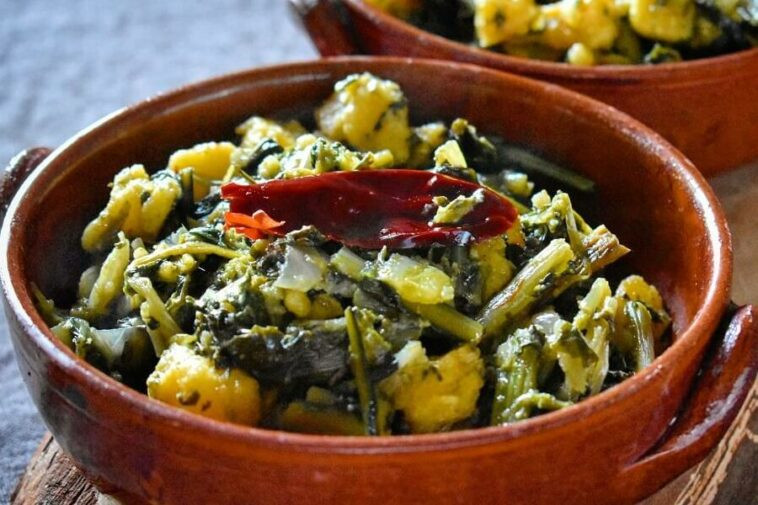 Found mostly in the southern part of Abruzzo, in the province of Chieti, this dish is a typical example of Italian
cucina povera
, or poor man's cuisine. It consists of a cornmeal-based pizza that is added to a soup made from in-season winter vegetables, such as broccolini, chicory, Savoy cabbage, and borrage. Cornmeal was historically used when wheat stocks ran low and it was impossible to bake bread products. Traditionally, very few ingredients were used, mainly vegetables that were found in the wild and polenta. Today, this recipe can contain a wide array of tasty vegetables, including endives, chicory, Swiss chard, lettuce, cabbage and even dried bell peppers.
4- Uova in Purgatorio (Eggs in Purgatory)

This dish consists of a tomato sauce made with red and green bell peppers. When the sauce is almost done, small indentations are made into it with a spoon and each hole is filled with beaten eggs. It is then cooked over low heat for approximately five minutes, or until the eggs are white on the outside, while still creamy on the inside. Why is this dish called "Eggs in Purgatory"? Because the eggs are seen as a symbol of the soul being surrounded by the flames of purgatory, due to the color of the tomato sauce.
5- Pallotte Cace e Ove (Cheese and Egg Dumplings)
One the region's most famous recipes, this poor man's dish features deep-fried dumplings made from mixture of cheese, bread and eggs that are simmered in fresh tomato sauce. Legend has it that during WW2, bread, cheese and eggs were hidden under the floorboards in family homes to protect these supplies from being ransacked. The women of the house then transformed these ingredients into tasty, nutritious dumplings with their own skilled hands.
6- Ciaudella (Bread Salad)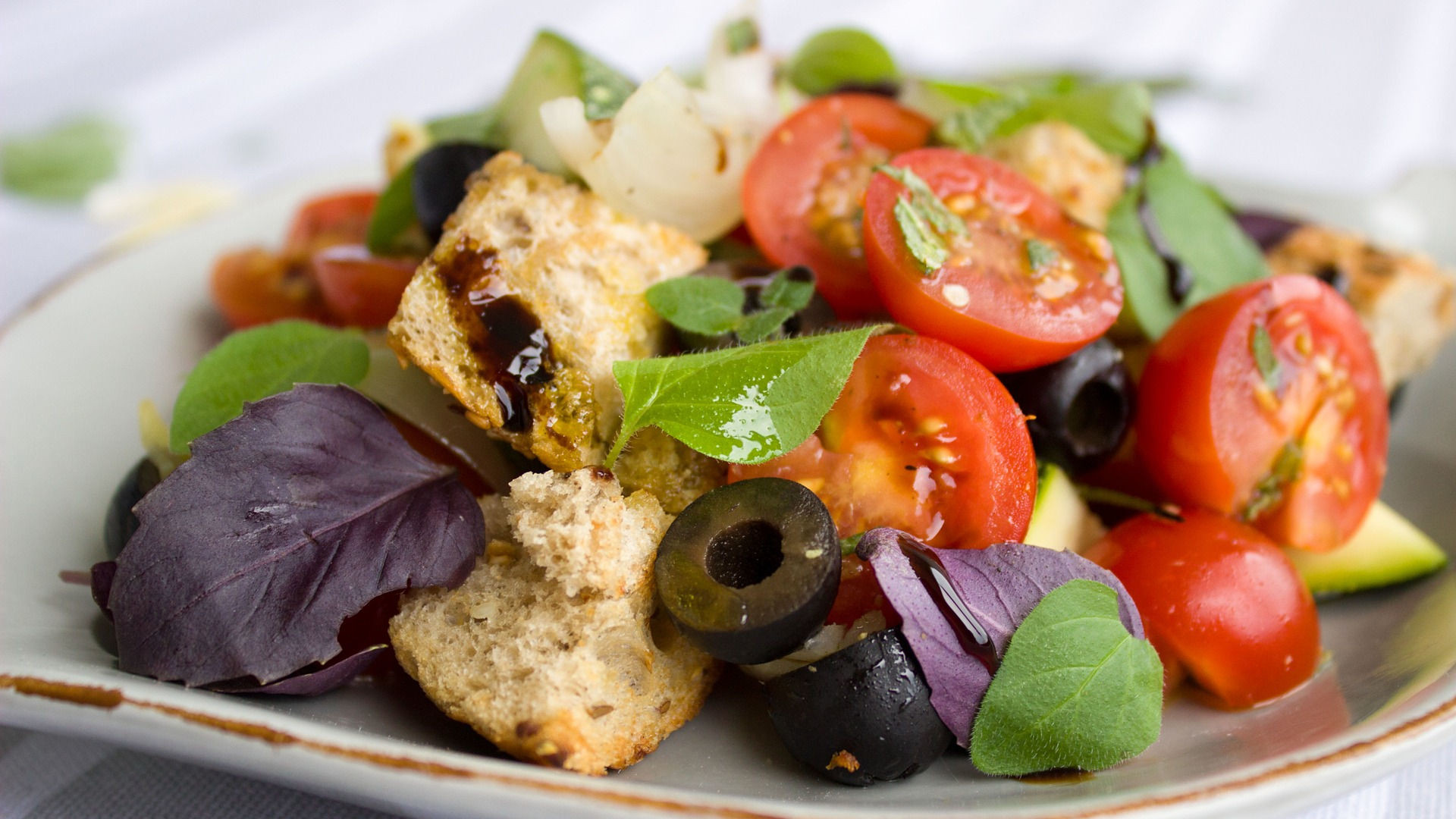 Resembling Tuscany's Panzanella salad, this extremely light, fresh dish is perfect for summer. It is prepared by soaking stale bread in water and vinegar. Excess moisture is then squeezed out and the bread is added to a mixture of tomatoes, onions and Abruzzan
tortarello
, a type of light-green cucumber that is only grown in the Italian regions of Abruzzo and Molise. In North America, this cucumber is known as Armenian cucumber.
7- Ciabbotto, aka Ciabotto (Abruzzan Ratatouille)
This vegetable side dish is similar to French ratatouille, but easier and quicker to prepare. In-season vegetables are cut into cubes and cooked in a
tiella
, which means cooking pan in local dialect. Highly versatile, it can be served as an appetizer, side dish or main dish with extremely tasty results.
8- Pizza Scima (Unleavened White-Wine Bread)
This unleavened bread is traditionally cooked under a large lid covered in embers. It dates back to the 1600s, when Abruzzo was home to a large Jewish community. Pizza Scima in Italian may sound like "stupid pizza" but in reality it gets its name from the word
acime
, which in local dialect means "unleavened." It is made from flour, oil and white wine and is excellent when served with cheese, in-season vegetables or white wine.
9- Peperoni e Uova (Peppers and Eggs)

This dish was traditionally served as a mid-morning snack while working out in the fields. It is made from bull's horn or bell peppers, which are cut into thin strips and fried in olive oil. Beaten eggs are then added, and the preparation is cooked until the eggs are hardened. This hearty, tasty dish is extremely versatile. It can be eaten as a mid-morning snack — which is called
sdijuno
in local dialect — as well as an appetizer or main dish.
10- Rap' e Fasciul, aka Rape e Fagioli (Broccoli Rabe and Beans)
This nutritious, hearty dish is served with the arrival of the first frost, when broccoli rabe is ready to be harvested. The rabe is sautéed in a frying pan with garlic, chili pepper and oil. Strained beans are then added to this mix. The sweet flavor of the beans blends well with the bitterness of the broccoli rabe. It goes perfectly with Pizza Scima or cornbread pizza.
We could have continued listing vegetarian Abruzzan dishes for hours, including
Virtù Teramane
, a type of hearty bean-and-vegetable stew. We should also remember the advice of our Abruzzan grandparents, "A glass of Montepulciano d'Abruzzo wine goes well with everything!" Abruzzo is home to a wide variety of products that are perfect for vegetarian cooking, including truffles, purple Turchesa potatoes, Pomodoro Pera d'Abruzzo tomatoes, bell peppers from Altino, white onions from Fara Filiorum Petri, and mushrooms from Monti della Laga — which are excellent when grilled or preserved in oil. All you need to do is get your hands on a traditional cookbook or let your imagination fly by experimenting and creating your own vegetarian recipes. Here's an idea to get you started: have you ever tried serving lentils from Santo Stefano di Sessanio with pasta? Probably the best you could do is come and enjoy Abruzzo cuisine yourself!